THE EDELGIVE PARTNERSHIPS MODEL
The EdelGive Partnerships vertical caters to the donor community consisting of corporates, HNIs, Family Offices and philanthropic Foundations who wish to collaborate and support relevant causes in the development sector. Since no entity exists in isolation and each requires an ecosystem to function to its fullest capability, EdelGive facilitates the exchange of information within the philanthropic ecosystem and works strategically towards being an effective intermediary between the for-profit and the not-for-profit sector.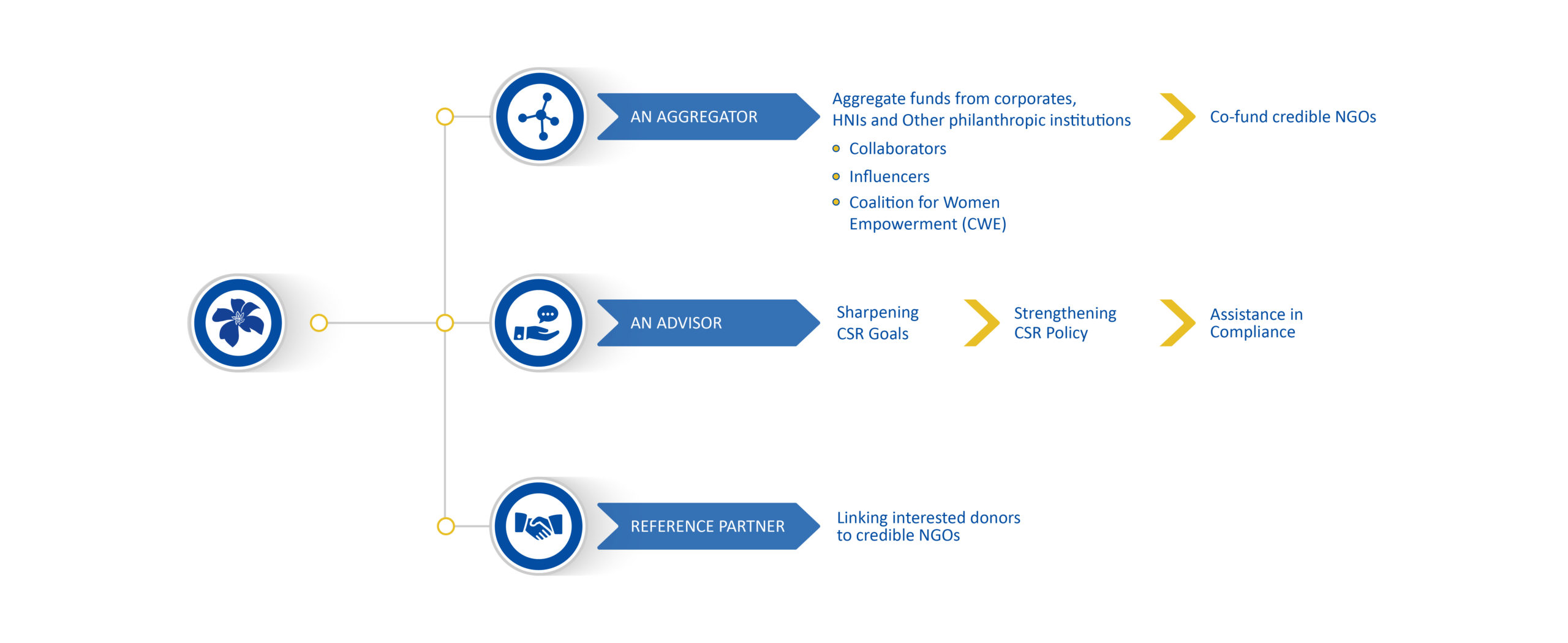 EDELGIVE'S SPECIAL FOCUS PARTNERSHIPS
EdelGive's Special Focus Partnerships comprises of Customized Philanthropic Solution where EdelGive and other philanthropy investors engage for different, independent programs; and Corporate Collaborative Philanthropy where multiple donors coalesce for a common program, anchored by EdelGive.
Customized Philanthropic Solution
EdelGive scopes small to mid-sized NGOs doing critical work, pan India and after thorough due diligence, matches projects to donor requirements for philanthropic giving. It continually engages with other funding leaders in the ecosystem to stay abreast of their philanthropic interventions and scopes opportunities for collaboration.
In addition to co-funding opportunities in credible programs, EdelGive also offers donors, operational assistance in program execution and monitoring. EdelGive extends its zero-profit Philanthropic Advisory Platform to corporate, Family Offices, philanthropic foundations and individuals. It functions as a reference partner who aids in the articulation of their strategy of giving, and connects them to credible work in the development sector. The entire financial assistance (from the donor) is directed towards the project/s while EdelGive Foundation absorbs the cost of the advisory services.
Corporate Collaborative Philanthropy
EdelGive curates special collaborative projects where several donors come together and support large projects for collective impact.
The Collaborators
The Collaborators for Transforming Education is a five-year long Public Private Partnership between EdelGive, a consortium of donors and implementing organisations with the Department of School Education and Sports (DSES) started in 2016 to implement the Pragat Shaikshanik Maharashtra (PSM); a Government-prioritised movement for educational transformation in the State. The initiative in its recently concluded first phase spanning two years, was successful in improving the learning outcomes of primary school children, comparable to the national average (as per the National Assessment Survey 2018).
The Coalition for Women Empowerment
The Coalition for Women Empowerment (CWE) brings together a diverse group of change makers especially institutional funders like Foundations and other international funding organisations with a legacy in philanthropy. Anchored by EdelGive Foundation, the group mobilises and channelises knowledge and strength along with longitudinal funding for driving and deepening the impact towards social and economic empowerment of women in India.
The Influencers
The Influencers are a significant and influential group of women, and men who are iconic leaders and opinion makers across sectors including but not limited to business, entertainment, sports, academia and philanthropy; possessing an intent and ability to lend their voice to the concerns of and challenges to women empowerment. This group, through the financial support of highly impactful programs, will support the creation of a gender-just society. It will not only facilitate funding to much needed efforts but will also encourage other donors to join the collective endeavour.
"What would we do without you? We are so happy to be involved with your organization – learning, discussing and supporting great NGO partners. Thank you for your professional support."
Susanne Grossman
Dalyan Foundation
"Partnering with EdelGive provides a fantastic learning opportunity on high-engagement venture philanthropy. We are impressed with EdelGive's professionalism and the personal commitment of its leader and team."
Dr. Ann Veruschka Jurisch
Director, atDta Foundation, Switzerland
"EdelGive Foundation is a great example of a highly engaged funder. This is the main reason why we chose to work with them on our first large grant in India towards Mumbai Mobile Crèches."
Hitan Mehta and Abha Thorat Shah
Directors, The British Asian Trust
"Our relationship with EdelGive Foundation has been that of a partner in the process of social development and the betterment of communities. We look upto the organization as a leader in their field and have adopted some of their processes for screening and implementation at Volkart Foundation."
Cyril David
CEO – Volkart Foundation
"I am amazed at the passion and creativity of the team and the sense of 'heart' that goes into working with their NGOs. Vidya and her team have demonstrated their strong desire to drive best practice learnings as they support Social Venture Partners in India."
Govind Iyer
Chairperson, SVP, Mumbai
Previous
Next