In a country of 1.3 billion people where problems are deep-rooted, complex and generally progress faster than solutions can catch up, individual efforts could sometimes fall short. Our greatest social problems are systemic — they are entrenched and perpetuated by a labyrinth of socio-economic and cultural issues. In order to achieve the sustainable wellbeing of communities, we have to tackle these systemic problems by going together rather than going alone.
This research infographics series is intended as a tool, useful aid and dialogue enabler among diverse groups of social entrepreneurs, practitioners, funders, policy makers, support organisations, governments and more. Designed to be a compilation of the current landscape of trends, gaps and opportunities, best practices and recommendations around state development profiles; each infographic in the series aims to serve as a ready reference to further conversations towards more informed collaborations, funding and implementation.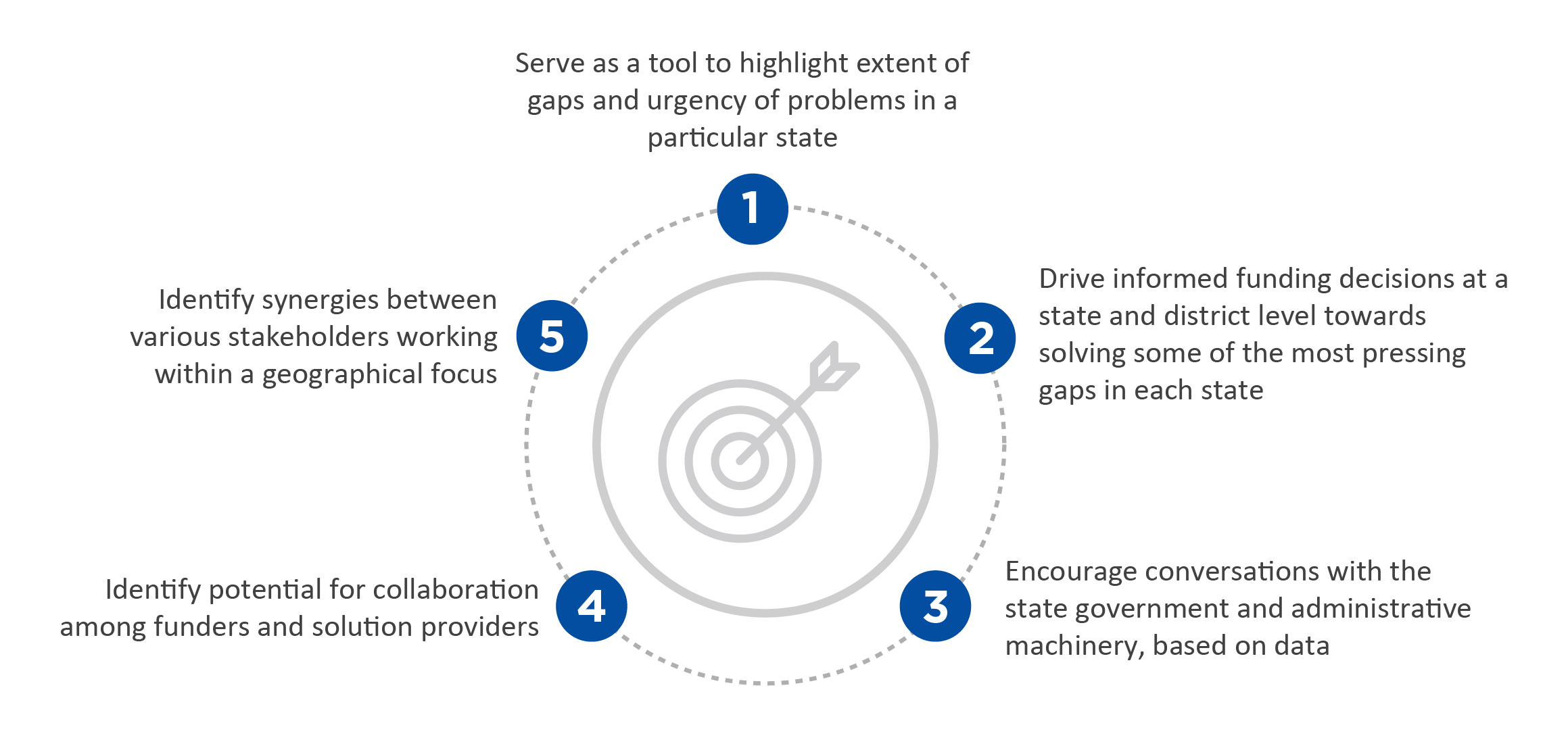 APPROACH AND METHODOLOGY
This paper is primarily grounded in secondary research, drawing on official databases (Census 2011, Ministry of Corporate Affairs CSR spend, NFHS 2015-16, NSSO 73rd and 74th round data, DISE-2016 etc.), reports and studies to build a holistic view. Analysis of secondary datasets undertaken were available using raw data across development indicators, obtained from official sources.
About EdelGive Foundation
EdelGive Foundation, established in 2008, has steadily been evolving a philanthropic ecosystem in India. EdelGive Foundation has been able to develop a symbiotic relationship between the different members of the philanthropic ecosystem viz. implementing partners (non-profits), funding partners(corporates, HNIs, large foundations) and collaborating partners like the government, like-minded agencies, capacity building organisations, and policy experts. The Foundation has fostered the growth of the synergies inherent to an ecosystem, to leverage gains over and beyond its investment, both financial and non-financial.